Orleans Parish Prison - DOCKS Renovation
To Whom It May Concern:
From Ted H. Moses, Principal
Reference: Orleans Parish Prison – DOCKS Renovations
MEI Project No. 2016-061

Subject: CDW Services, Letter of Recommendation
Moses Engineers, Inc. was the prime designer for the City of New Orleans' OPP Docks Renovation. This 5,000 sq. ft. renovation transformed a 1927 era prison into a modern holding cell facility with direct access to the Criminal District Courts building. This project included a new three story stairway built inside an existing prison exercise yard and a one floor stair connecting the holding cells to a new courtroom in the Criminal District Courts.
During the year and a half construction time period, prisoner was maintained through the renovated areas to all Criminal District courtrooms' holding cells. Additionally, construction occurred with tenants directly below the renovated spaces and with all the courtrooms in full operations. CDW constantly adjusted their construction schedule to avoid loud noises, work within the prisoner high security environment and worked weekend or after hours to keep the project on schedule.
Additional issues made this project more challenging like working in 1927 building with no record drawings or information on existing conditions. CDW also encountered issues with connecting to aged power, plumbing, security, fire alarm, fire protection and control systems that were in need of repair/replacement.
Through all this adversity, CDW kept their sub-contractors focused and managed expectations. Their quality control was very good resulting in a manageable final punch list.
This was a difficult project and CDW was unfazed. They did an admirable job and we can recommend them for other projects without hesitation.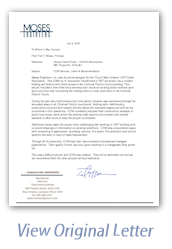 Submitted by Ted H. Moses, Principal
Posted 08/29/2020
---
Plaquemines Parish Government Council Building
To whom it may concern:
All South Consulting Engineers, LLC is the Professional of Record for the design and construction over site of the above referenced project. The project entailed complete renovation of a 23,000 square foot municipal office building for Plaquemines Parish Government. Project included interior and exterior demolition down to the building framing, reconstruction of the building facade and all new interior including a 150 seat council chamber. The total construction cost for the project was $4,718,175.57.

CDW Services, LLC was the successful low bidder and was awarded the contract in February 2016. Throughout the project, CDW Services, LLC was professional, efficient and responsive. Their personnel, attention to detail and work product made this project a huge success.

All South Consulting Engineers, LLC has had the opportunity to work with CDW Services, LLC on multiple construction projects, and we have been pleased with the results on all of the projects. We would recommend CDW Services, LLC to anyone looking to procure a qualified contractor.

If you have any questions or are in need any additional information, feel free to call.

Sincerely,
All South Consulting Engineers, LLC
Jens J. Nielsen, Jr., P.E.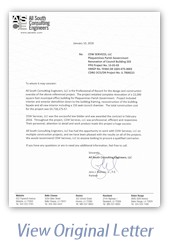 Submitted by Jens J. Nielsen, Jr., P.E.
Posted 08/02/2018
---
City of New Orleans Gernon Brown Community Center
To whom it may concern:
Our office is pleased to recommend the construction services of C.D.W. Services LLC, as General Contractors. Yeates and Yeates Architects, LLC and C.D.W. Services LLC successfully worked together on the recent renovations to the City of New Orleans Genon Brown Community Center. Throughout this project, CDW worked to move the project forward and did so with professionalism and in a timely manner.

Mr. Christopher D. Walker, President of C.D.W. Services LLC and his entire staff worked diligently to coordinate the work. C.D.W. Services LLC provided quality workmanship and also kept the job site neat and orderly throughout the process. The end result was a project that was completed timely and in accordance with the construction documents. The City of New Orleans now has a beautifully renovation recreational center that is fully operational and completed on time and within budget.

Yeates and Yeates Architects, LLC looks forward to working with C.D.W. Services LLC on future projects.

Sincerely,
YEATES AND YEATES ARCHITECTS, LLC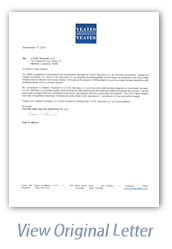 Submitted by Yeates and Yeates
Posted 08/02/2018
---
J.B. Cade Library, Southern University
To whom it may concern:
I am pleased to provide a letter of reference to CDW Services, LLC in regards to their extreme professionalism and character of the principal, Chris Walker.

As a licensed professional architect I have had the occasion to work closely with this General Contractor, most recently on the Cade Library Storm Repairs on Southern University's Baton Rouge campus. The project had many complexities such as working around student usage and mobilizing different areas on a tight timetable to ensure the functionality of the library. In spite of these difficulties, CDW finished the project on time with a minimum, less than 2%, of change orders. In all cases CDW worked closely with the University and the Architects to ensure an excellent result. I am extremely pleased with the performance on this job.

Further, as a consultant to Jacobs/CSRS JV for the Recovery School District and OPSB, I have had the opportunity to monitor the progress and to discuss with the various project managers and architects of record, their satisfaction with the performance of CDW as well.

Chris Walker and CDW Services, LLC are well capable of delivering on their commitments in a professional manner. I fully recommend them,

If you have any further questions, please do not hesitate to call.

Sincerely,
C. Spencer Smith, AIA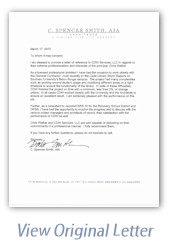 Submitted by C. Spencer Smith, AIA
Posted 08/02/2018
---
Delgado Hall Auditorium Renovations
To Whom it May Concern:

HMS Architects has worked with CDW Services as a contracting partner for the completion of the Isaac Delgado Hall Auditorium Renovations at Delgado Community College's City Park Campus. I would highly recommend their services based on my understanding of their ability to overcome significant construction challenges.

CDW was able to complete the demolition and renovation of the existing theater in the middle of Delgado's campus in an occupied building while minimizing disruption to the faculty and students. Careful coordination was ensured with the owners and adjacent users to minimize disruption of classes and exams. The work included complex tie-ins to the existing active building systems including chilledwater, power, emergency generator, fire alarm and sprinkler systems. The work also included theater specific disciplines including motorized rigging, audio and visual systems and theatrical lighting which required coordination with the traditional building trades.

The result of CDW's work is an exceptional 350-seat theater in the heart of the historic Isaac Delgado Hall on City Park Avenue.

CDW Services was an excellent partner in this project. I look forward to working with CDW Services on future construction projects and would recommend their services.

Respectfully submitted,
HMS Architects APC
Damien Job, AIA
Project Architect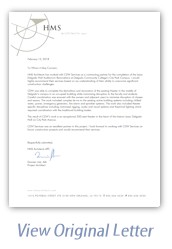 Submitted by Damien Job, AIA
Posted 08/02/2018
---